Sofa Of Jung
Sydney Bienniale 2004
il Mart di Rovereto 2005
Sofa of Jung
Mario Rizzi
Michael Schneider
Alisa Andrasek
Chris Ault
Designed an interactive audio and tactile environment using new super-focused sound technology in conjunction with precision vibration that responded to the viewer, creating a personal space that explored feelings of passion, rationality through the both intellectual and intimate relationships between Carl Jung, Sabina Spielrein, and Sigmund Freud.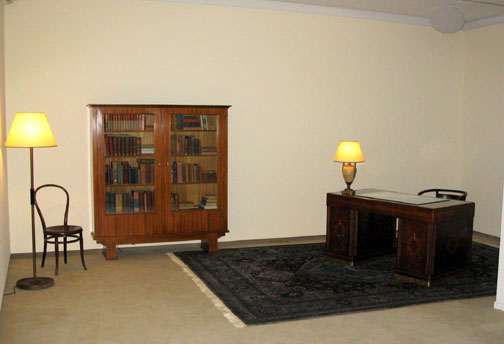 Letters from Jung to Spielmein are heard coming from the surface of the desk and letters from Freud to Spielmein are heard coming from the books, when approached by viewer. The sound has the quality of listening to headphones, being directly transmitted to the listener's head, creating a very personal experience. When the viewer is in the middle of the room, the voices are heard almost as ghost voices, unintelligible mutterings, coming from everywhere.

In the Second room, the more intimate space, readings from Sabina Spielmein's diary are heard only when sitting on the two armchairs in the space. The voice is also processed and turned into vibration that travels through the armchair and into the sitter's body. A very voluptuous vibration highlights certain key phrases, physically immersing the listener in the story.